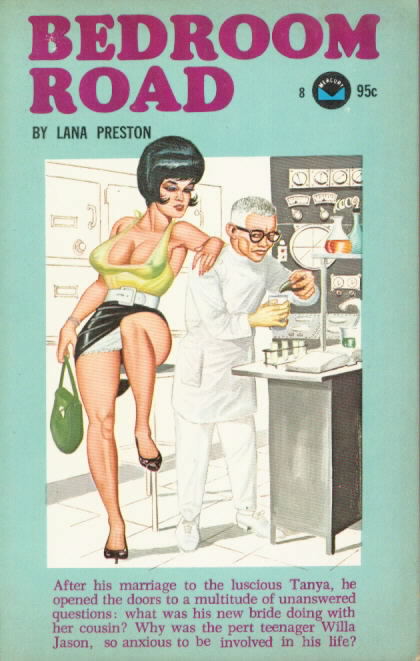 Paul Hugo Little
Paul Hugo Little (born Paul Hugo Litwinsky) was one of the most curious figures in American letters. To find a comparable character, one would need to reanimate Vladimir Nabokov to invent him, for he was among other things -- a businessman, a professor, a writer, a chess champion and a gourmet, who divided his time equally between reviewing restaurants, writing on chess strategy, and producing perhaps the most extensive oeuvre of any erotic/pornographic writer in history. His pseudonyms are many, Kenneth Harding, A. De Granamour, Dr. Guenter Klow, Dr. Gerda Mundinger, Sylvia Sharon, Paula Little, Paula Minton, Hugo Paul, Myron Kosloff, Jon Parker (?), Olga Rich, Larry Preston, Lana Preston (?), to name but a few. Born in Chicago in 1915, he lived there his whole life, while traveling widely in his capacity as editor of HOSPITALITY, a restaurant trade magazine. Throughout the 60s and 70s, he was an important element to the First Niter/After Hours/Wee Hours/Unique booklines, as well as the entire Reuben Sturman/Cleveland-based adult book empire World-Wide News Corporation (including Chevron, Mercury, Satan Press, Crescent, Corsair, Wizard, etc), the Eros-Goldstripe imprints, as well as the Star Distributors, and Masquerade lines of literary erotica. He died in 1987, and his collected papers now reside in the Fine Arts & Special Collections Department at the Cleveland Public Library.
Little's works are distinguishable for their attention to historical detail and imaginative BDSM scenarios; they are a high calibre of writing and recommended.

New titles will be added as they become available.