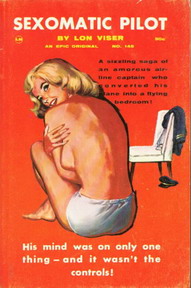 Airplane Sleaze
"Coffee, Tea or Me?" was simply the first legit manifestation of a decades-old male-fantasy about the girls in the sky.
Perhaps we should thank Howard Hughes -- master of many 20th century female fancies - for the sexy stew role-model?
Dig in here to study the development of the stewardess fetish/fantasy from the very beginnings of commercial flying to the high-profile sexed-up stews of the 70s and beyond!

New titles will be added as they become available.