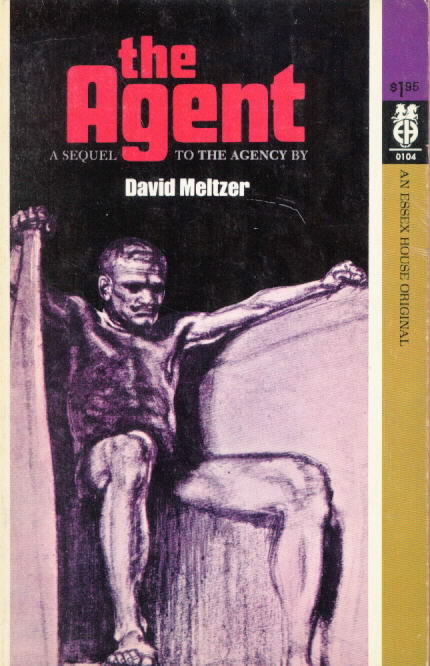 David Meltzer

The following biography appears inside the cover of Essex House 0102 THE AGENCY, Meltzer's first Essex House novel:

DAVID MELTZER is one of the most highly regarded poets on the West Coast today. A young man of indefatiguable artistic energy, he divides his time between his family, music, and writing, with enough emphasis on the latter to warrant his inclusion in David Kherdian's excellent study of the key figures of the new movement in poetry SIX POETS OF THE SAN FRANCISCO RENAISSANCE (Fresno, 1967), along with Ferlinghetti, Snyder, Whalen, McClure and Antoninus. His work has appeared in dozens of "little magazines" and literary reviews, and his previously published books inlcude POEMS (San Francisco, 1957), RAGAS (San Francisco, 1959), THE CLOWN (Larkspur, 1960), WE ALL HAVE SOMETHING TO SAY TO EACH OTHER (San Francisco, 1962), THE PROCESS (Berkeley, 1965), JOURNAL OF A BIRTH ( Berkeley, 1967), and THE DARK CONTINENT (Berkeley, 1967). Recently, he completed a major study of the impact of pop music in America, after which he and his wife Tina formed their own rock group called The Serpent Power. Their first album has just been released by Vanguard. THE AGENCY is the initial volume of a trilogy which will be completed by THE AGENT and HOW MANY BOCKS IN THE THE PILE?, to be published by Essex House.


New titles will be added as they become available.