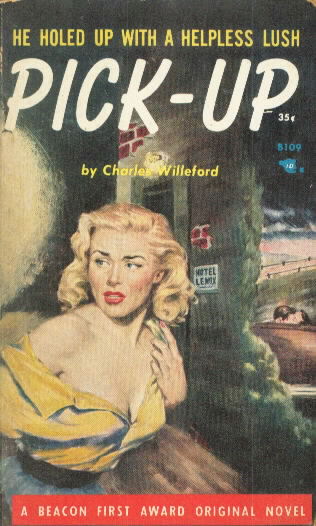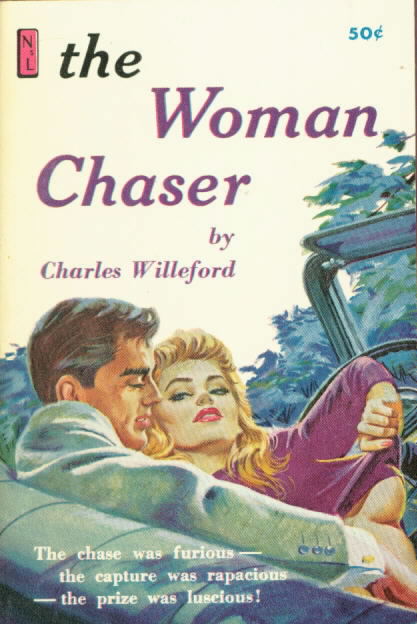 Charles Willeford
Charles Willeford (1919-1988) was truly a great American writer. His childhood (as chronicled in his autobiographical I WAS LOOKING FOR A STREET), reads like an update of Huckleberry Finn as an orphaned kid on the bum on the Great Depression. In 1935, he enlisted in the armed army at (under)age 15, and began serving what would be an over-twenty-year stretch of re-enlistment tours. Relying on the armed services for continuity and perhaps a sense of family, Willeford found it afforded him an opportunity to write -- poetry, at first (published in a pre-beat 1947 and 1948) and later fiction. Not purchased until several years after it was written, Willeford's first novel, HIGH PRIEST OF CALIFORNIA (HPOC), is a searingly funny character study about the sordid romantic life of a used car salesman in post-WWII San Francisco. It may be that Willeford's desire to be published as a serious writer (or as Terry Southern would call it ... in the "Quality Lit" game) was too heavy a hope to shoulder, as he suffered a breakdown and was hospitalized for depression in the long months before HPOC was published. HPOC finally came out through an oddball imprint of UNIVERSAL PUBLISHING, the Royal Giant series, whose checklist was exclusively men's adventure published on pulp-paper -- in HPOC's case sandwiched with a Talbot Mundy exotic adventure in a two-for-one gimmick. Willeford's next several novels, all as accomplished and electrifying as the best of Jim Thompson, would appear from Universal's Beacon Books and then an even less-distributed company known as Chicago Paperback House (CPH). Disillusioned by the extensive liberties taken with UNDERSTUDY FOR LOVE (1962), and finally retired from the service, Willeford got his GED, enrolled in graduate writing programs in Florida and began scribbling mystery reviews for the Miami papers.&nbsp Working as an editor for Alfred Hitchcock's Mystery Magazine and teaching writing would come to occupy his creative powers for many years. However, his long-form writing hiatus came to a close when he returned to print in the early 1970s. Determined to work with better editors than those who had disappointed him at CPH, Willeford sent out THE BURNT ORANGE HERESY, a twisted dark thriller based in the art world. The publishing game had changed and the paperback houses of the 50s and early 60s were gone, so his excellent writing was soon issued in hardcover, far enough from the two-bit sleaze of Universal and CPH, and close enough to "Quality Lit" to land him a leg-up on the ladder to success. His CPH novel COCKFIGHTER was bought and produced as a feature film (by Roger Corman) and his novels THE BURNT ORANGE HERESY and HOMBRE FROM SONORA were well-received. With the 1984 publication (and film-rights purchase) of MIAMI BLUES, Willeford acheived the financial reward and critical validation he had so long sought. In perfect tempo with the rhythm of life in his works, Willeford passed away not long after the world began waking up to the genius of his undergound narratives which were as brilliant as they were sleazy. He is survived by Betsy Willeford, his last wife and literary companion.
A selection of this powerful writer's lesser-known publications.

New titles will be added as they become available.