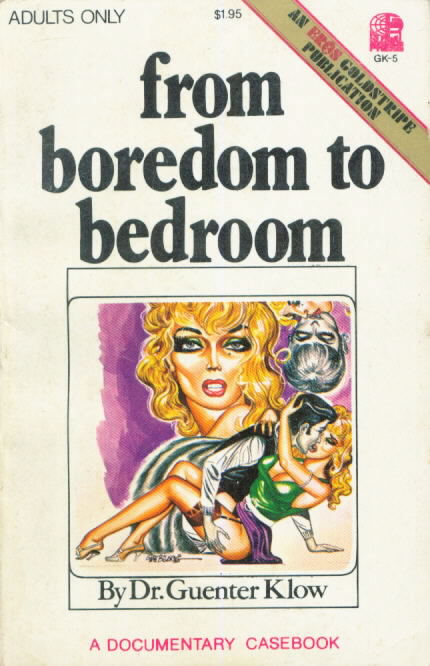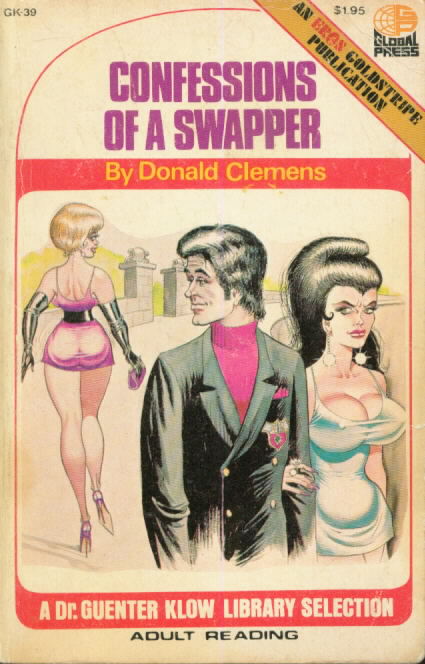 Dr. Guenter Klow Books began appearing in 1969, a year after the last of the WWNC books were scuttled, for a brief period, twisting to a trickle the prodigious and imaginative pubishing flow of Chess-Master/Erotician Paul Hugo Little.
Paul Hugo Little's fictional persona, Dr. Guenter (sometimes Guenther) Klow, is one of the more outrageous characters ingrained in the seamy woodwork of mid-century sex publishing. Ever sensitive to the permutations of human desire and what might to be referred to by a lesser intelligence as perversion, Klow's experiments, investigations and observations fueled several dozen books, and spawned a small cottage industry of imitators, including equally preposterously named Doctors Gerda Mundinger and Jose Lengua -- all works penned by Paul Little.
First appearing in print via the lesser known publisher KIOWA books -- a Buffalo, NY cover address/postal drop imprint which was spawned in the collapse of the First Niter/After Hours -- distributed by Reuben Sturman. The Klow books then appeared in the Documentary Classics bookline (which bore the copyright CONSOLIDATED PUBLISHING, but had distribution via the early Star Distribution); soon, Sturman consolidated CONSOLIDATED PUBLISHING into his Eros-Goldstripe book line, printing out of Wilmington, Delaware, distributing from Eros-Goldstripe Global Press distribution. It was during this period that the books took on their most appealing graphic design and highest production values -- employing Bill Ward and Bilbrew to provide full-color cover paintings and even using acid-free paper stock for certain books.
In 1972-73, when Sturman took over Milton Luros Parliament News Distribution printing, packaging and distribution network on the West coast , the Klow books were packaged and distributed by Parliament -- using less appealing cover art, and cheaper paper stocks. The Klow books continued to appear for many more years, and soon even the high-tone Grove Press Venus Library line horned in on the action and began producing Gerda Mundinger books.
Be sure to cross-check the "Writers" and "Artists" and "Themes" areas also!
New books will be added as they become available.