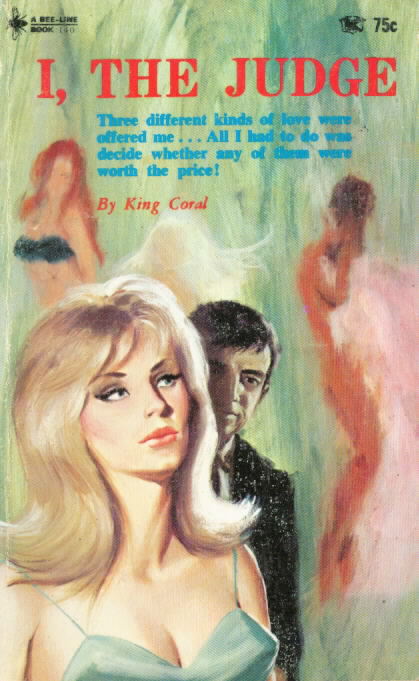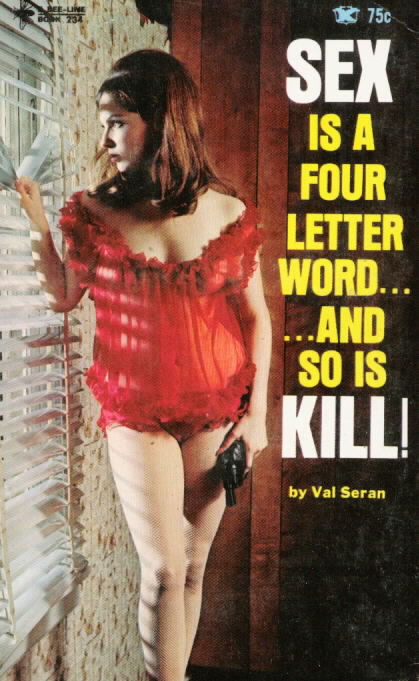 Bee-Line lists itself on the copyright page as a New York Corporation
but in its earliest books through 1966, provides its "Editorial Office" address as:
4102 Lee Road
Cleveland 28, Ohio
In 1967, the editorial office moved to
145 East 52nd Street
New York, New York
Perhaps we should not be thrown off by the bumble-bee logo (see above) and recognize that Bee-line Books name announced a line of "B" books akin to the "B" movies which were the low-budget exploitation films sharing the bottom half of the double-feature program bill. Or perhaps the Bee-line had to do with "B-Girls" who populated both those films and the tawdry bar-rooms that Bee-line's exclusively male demographic no doubt frequented (if only in their minds). Whatever the true title association/origin, Bee-line appeared at the height of the mid-60s sex book boom. Greenleaf and Grove Press had won their censorship battles, and the market was wide open for hot sleaze. The company was established by David Zentner who had great success in 1960s mens magazines and could easily secure shelf-space for a new line of paperback books.
The initial offerings were in the superspy and Spillane modes bearing titles which spoofed current and classic best-seller titles; such as FOR WHOM THE BELLES TOIL, IN HOT BLOOD, DAMES PEOPLE PLAY WITH, and many other groaners. Gradually, Bee-line shifted with the times. In late-1967, Bee-Line owner Zenter got involved with Maurice Girodias and his Olympia Press in exile from France. They set up shop together at
386 Park Avenue, New York, NY, and began a new series entitled The Ophelia Press, re-printing many of the Travelers' Companion Books (which were being pirated by almost everyone else in the business) but augmenting the line with originals as well. This was not the only American publishing enterprise for Girodias, for after not too long, the Bee-Line connection fizzled and Girodias moved out to Los Angeles for one final stab at making his mark in the American Erotica world.
Bee-Line carried on with a steady production of books, hardening its subjects with the times -- their cover designs lose flair as they proceed through the 1970s and into the 1980s (and even 1990s) with bland photo images. But Bee-Line Books were die-hards and proved to be the Last Man Standing in the adult publishing world.
Be sure to cross-check the "Writers" and "Artists" and "Themes" areas also!
New books will be added as they become available.