VintageSleaze.com

| | | | | | |
| --- | --- | --- | --- | --- | --- |
| Home | BOOKS | MAGAZINES | WRITERS | ARTISTS | MODELS |
| Gallery | Reference Books | Themes | Essays | SPECIALS | Erotica |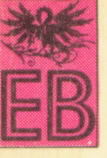 Exotik Books Catalog


While the first Exotik book was graced with the cover art of Gene Bilbrew, subsequent books featured the talents of a variety of artists unidentified as of yet.
Exotik books may be the first book line issued from the then-growing adult magazine empire of Reuben Sturman, known as World Wide News Corporation (WWNC). The very first book NAKED SINNER was distributed from WWNC, but has associations with the New York-based First Niter series from Stanley Malkin's 42nd Street operation in that Bilbrew worked for them and the author of the first book "Jon Parker" was a house name for the various First Niter, After Hours, Wee Hours and Unique series.
Later Exotik books would share the copyright address of FOREMOST PUBLISHERS, Cadillac Square, Detroit, Michigan, as would the PHANTOM book series, which these Exotik books resemble in their cover layout/graphic design.

The West Coast distributor was the PEC group headquartered in San Diego.

Be sure to cross-check the "Writers" and "Artists" and "Themes" areas also!
New books will be added as they become available.
Here's a special catalog selection of EXOTIK books. Enjoy!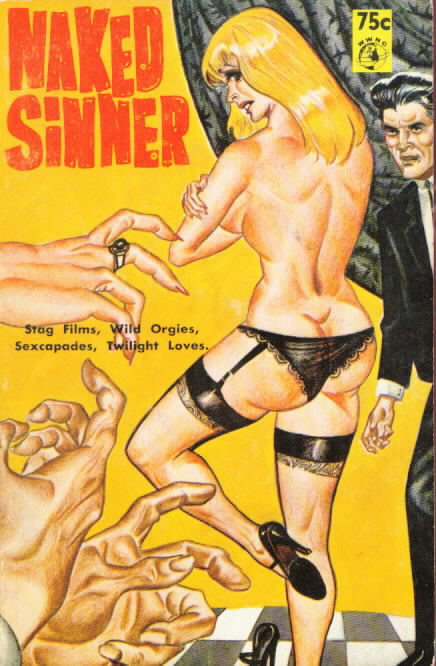 Jon Parker
EXOTIK #1 (1963)
FINE MINUS / UNREAD
$60/SOLD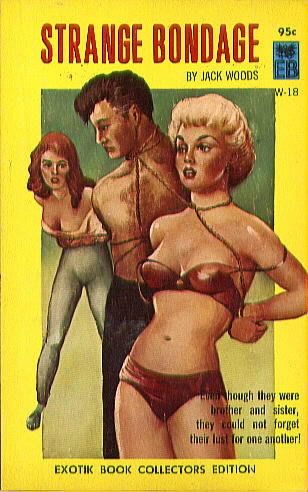 Jack Woods
EXOTIK 18 (1965)
FINE MINUS
$40

NEW BOOKS TO
BE LISTED SOON
How to order
This is a self-made website and while it might be extensive, it is not super-sophisticated. The little

icon takes you to a generic order form where you can type in the author, title, price, and indicate whether you would like to send me a check, money order or credit card payment. I will confirm availability via e-mail, and once I've received payment, I'll ship the book. If you have questions, please don't hesitate to ask via email.
Condition Grades
There's a standard bookseller vocabulary, with terms like Fine, Very Good, Good and Poor to assess condition (to see these terms defined, click on the link above). Most of my books are in Very Good or better condition, and I tend to overemphasize their flaws so that any surprise is a pleasant one. Feel free to ask questions, and if the book isn't in the condition described, you may return it for a full refund.
Wants Lists
If I don't have the book you seek in stock, I will retain your book search in my wants files and email you when I do have a copy for sale. If you don't hear back from me immediately, that probably means I don't have a copy right now. But fear not, I keep extensive files and never stop looking.... so send me your request; you've got nothing to lose!
Not listed?
Not everything is listed on-line. Let me know what you're looking for.
Book Search Form

And, remember, the best way to check if I have a title or number is to simply ask.
I'll send you a quote if I have the book in stock.