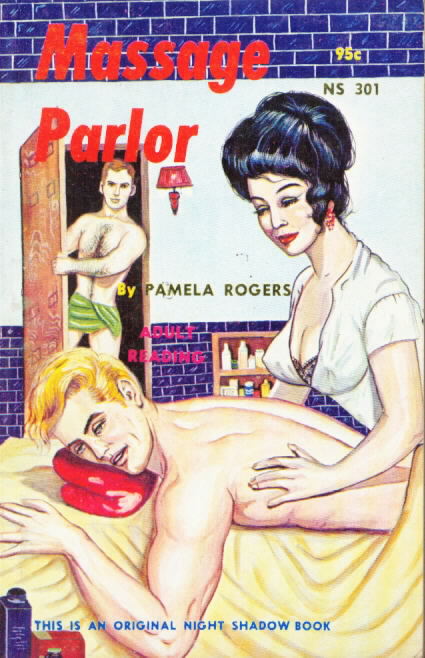 NIGHT SHADOW BOOKS
While some folks might assume these Night Shadow books (as well as their sibling ROOM MATE BOOKS) to be a lost book line related to the First Niter / After Hours group. The assumption is appropriate -- owing primarily to the apparent similarities shared by all those series -- the AMD logo on the spine, their specific dimensions and uniform 160-page count, size, the textured patterning on the back cover, and finally the appearance of Bill Alexander art work (at least on the ROOM MATE Books). All those similarities are clear, however, my conclusion is that while all books were distributed by the AMD group (which accounts for the apparent similarities in production and book design), the editorial and graphic design operations were entirely separate. The artist at work is not Bill Alexander, but rather, a similar hired-gun like Alexander, doing imitation work -- to emulate the highly successful First Niter / After Hours series. These books all appear in 1966, which is the last year AMD distributed the First Niters/ After Hours / Wee Hours / Unique books. After 1966, Eastern Magazine Distribution (EMD) took over the job. Perhaps these books were AMD's attempt to grab off some of the market. Again, this is just a theory. If there is some studious (and eternally horny) graduate student who would like to do a paper on this subject, I will happily publish and promote it (with a suitably racy title and cover art!)
These Night Shadow Books are copyright:
Casanova Publishing Co., 32-36 41st Street, Long Island City, NY

Be sure to cross-check the "Writers" and "Artists" and "Themes" areas also!
New books will be added as they become available.