VintageSleaze.com
| | | | | | |
| --- | --- | --- | --- | --- | --- |
| Home | BOOKS | MAGAZINES | WRITERS | ARTISTS | MODELS |
| Gallery | Reference Books | Themes | Clubhouse | SPECIALS | Erotica |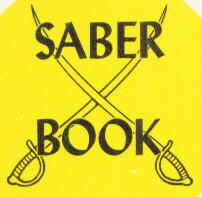 Saber Books Catalog

Saber Books was the second bookline of Sanford Aday and Wallace de Ortega Maxey, following quickly on the heels of Fabian Books (and one of a half-dozen book lines to emerge from the Fresno-based publishing operation of Aday and Maxey). Along with the Saber line, there were also its forerunner Fabian, and follow-ups Tropic, National Library Books (NLB), Paragon and Vega. Both an author as well as the chief editor and publisher, Aday established Fabian in 1952 (which was early in the realm of sleaze paperbacks), issuing tortured novels of his own for a short while, until branching out and publishing the works of others, including sleaze scribes Eve Linkletter, John Nemec, Roger Blake, nascent food critic Lou Hogan, and astrologer Sydney Omarr. Aday ran famously afoul of the law in 1963 when he was convicted in a Michigan pornography trial for shipping across state lines the notorious 1959 Oscar Peck novel SEX LIFE OF A COP (Saber #11). One wonders had the titular subject had been a grocery clerk, bell-hop, or insurance saleman, if the sentence of 25 years might have been somewhat less. The Saber books ran through as late as 1973. Bill Edwards was the primary cover artist for the line, and his models usually bear a striking resemblance to Tina Louise with mole placement nearly identical! The books were produced with the thinnest of paper stock. Both the glossy covers and the paper pages are remarkable light-weight are unfortuantely susceptible to chipping and tearing.
Offices were listed as: 2919 East Belmont Avenue, Fresno 1, California

Be sure to cross-check the "Writers" and "Artists" and "Themes" areas also!
New books will be added as they become available.
Here's the current selection of SABER books. As I have not read these please feel free to send in your thoughts, any plot synopsi, and/or back information and I will happily add it to this ever-growing reference library (credited or anonymously).

NEW BOOKS TO
BE LISTED SOON
How to order
This is a self-made website and while it might be extensive, it is not super-sophisticated. The little

icon takes you to a generic order form where you can type in the author, title, price, and indicate whether you would like to send me a check, money order or credit card payment. I will confirm availability via e-mail, and once I've received payment, I'll ship the book. If you have questions, please don't hesitate to ask via email.
Condition Grades
There's a standard bookseller vocabulary, with terms like Fine, Very Good, Good and Poor to assess condition (to see these terms defined, click on the link above). Most of my books are in Very Good or better condition, and I tend to overemphasize their flaws so that any surprise is a pleasant one. Feel free to ask questions, and if the book isn't in the condition described, you may return it for a full refund.
Wants Lists
If I don't have the book you seek in stock, I will retain your book search in my wants files and email you when I do have a copy for sale. If you don't hear back from me immediately, that probably means I don't have a copy right now. But fear not, I keep extensive files and never stop looking.... so send me your request; you've got nothing to lose!
Not listed?
Not everything is listed on-line. Let me know what you're looking for.
Book Search Form

And, remember, the best way to check if I have a title or number is to simply ask.
I'll send you a quote if I have the book in stock.