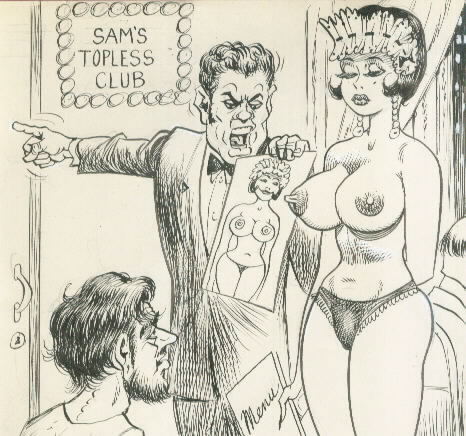 Original Art
Beholding the original work which was reproduced on book covers and magazine interior pages is a great thrill. Especially when one knows a bit about the artist and the context in which the work was created. It is a great tragedy that most of the original paintings and illustrations used in creating the mass of sleaze books and mens magazines were neither respected nor protected in the period of their use -- and have since for the most part disappeared. Even I have been guilty of this, for as a young collector, I stumbled upon a cache of hundreds of gorgeous original oil paintings -- Rembrandts of Sleaze! And regrettably, I was too impoverished to buy even one -- at a stupendously low price! I should have gone into quintuple digit debt and bought them all, but weeks later, when I came to my senses, they were gone -- auctioned at ten times the price I was offered. Well, we all have ones that got away.
Here is an ever-growing assortment of original art pieces... for the moment featuring a number of pieces by Bill Ward, one of my favorite artists. Look closely for a super special artifact/piece he did for Russ Meyer!
New items will be added as they become available.