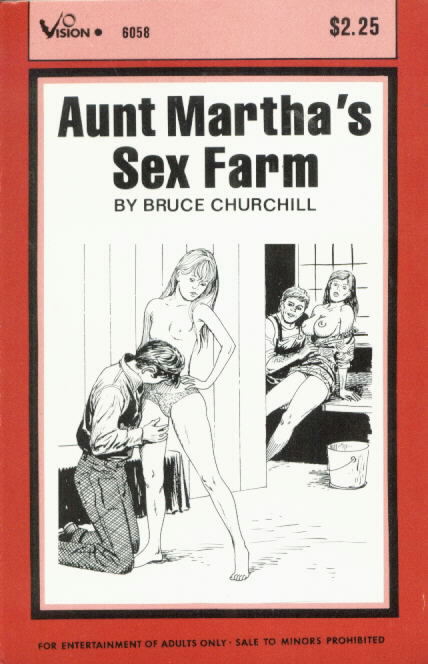 Star Distributors began publishing in the early 1970s with a colorful array of book lines. The subject matter tended to be more hard-edged than the more socially-acceptable subject matter of wife-swapping or nymphomania. The world of the Star books was decidely more taboo, hitting hard on the recurring themes of sex between the young and the old, incest and the dark power play of rape and brutality. The Supreme Court decisions of the late 60s freed up the book business to explore these subjects without running afoul of any laws, and to this day, while the subject matter explored in many of these books is highly charged, because they are works of the imagination, of descriptive literature, as opposed to photographic depiction, they were and are legal to buy, sell, and possess.
"Vision" were yet another one of Star Distributors' book lines issued in response to the relaxing of censorship laws in the late 60s. These gritty gems showcase some outrageously sleazy cover design.
In the 1980s, when the Meese commission on Pornography (MiPorn) was building its case against pornography and organized crime, it characterized the STAR Distributors publications as an insidious effort to "make deviance less deviant" (as a means to promote orgnanized crimes' other commercial vices, such as prostitution and drugs). The analysis was interesting one to be sure. And I think it proves that there are frustrated English majors everywhere... including the FBI!

Be sure to cross-check the "Writers" and "Artists" and "Themes" areas also!
New books will be added as they become available.