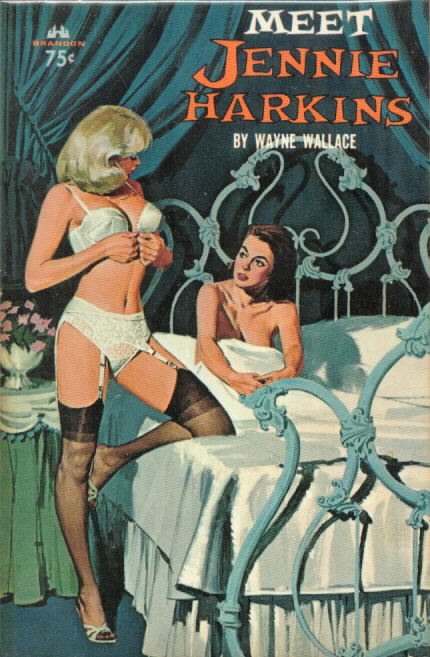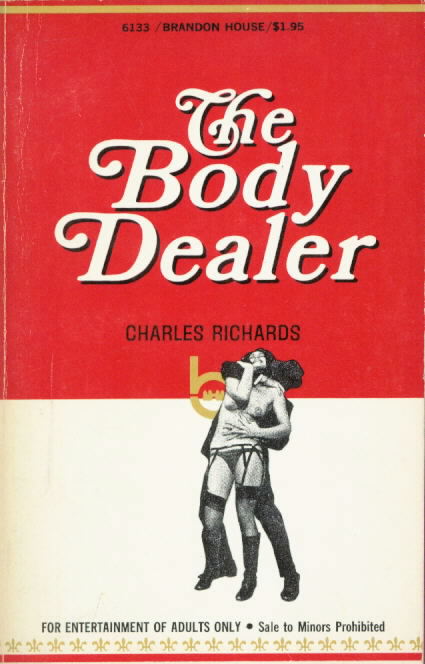 Brandon House Books began appearing in 1963, five years after Milton Luros' American Art magazines engaged Hefner's PLAYBOY and the East-coast men's magazines and claimed victory on their own terms, establishing Parliament News as the leading distribuotr of sleaze and "adult" materials West of the Mississippi. The art direction reflects the specific fashion-sense of the day, from the lush sexy cover paintings of professional illustrator Fred Fixler in the early days, followed by collage graphics of the mid-60s, to the mod "pop-art" Andy Warhol Campbell's soup can imitation of the late 60s on through the photo covers of the mid- 70s porn era. It might also be noted that the early Brandon volumes offer an unusual abundance of graphic design -- each book had a front cover graphic, a back cover variant, and some sort of unique interior title page design curiousity as well. Using the Parliament News Distrbution network, Brandon House books appeared wherever sleaze was sold, but generally did not make it to the shelves of any "legit" newsracks, drugstores, or bookstores. This explains the rarity of Brandon House paperbacks among vintage paperback collector/dealers. It was our good fortune to stumble upon an adult bookstore owner who had purchased the entire colleciton of the American Art/Parliament News Distributors editorial office samples -- which included original editorial notations and "office copy" stamps. Continue checking back as we list what was salvaged from that collection. Also, be sure to check out the related booklines, Brandon House Library, Essex House and Barclay books. Some familiar names will appear here and there, such as Richard E. Geis, John Cleve, Stanley Curson, Paul Canto, Russell Trainer, and under the Essex House imprint, such literary lights as poets Charles Bukowski, Michael Perkins, sci-fi writer Philip Jose Farmer, and other Hippie scribes. For post-1972 Brandon adult productions, please click here!
Be sure to cross-check the "Writers" and "Artists" and "Themes" areas also!
New books will be added as they become available.