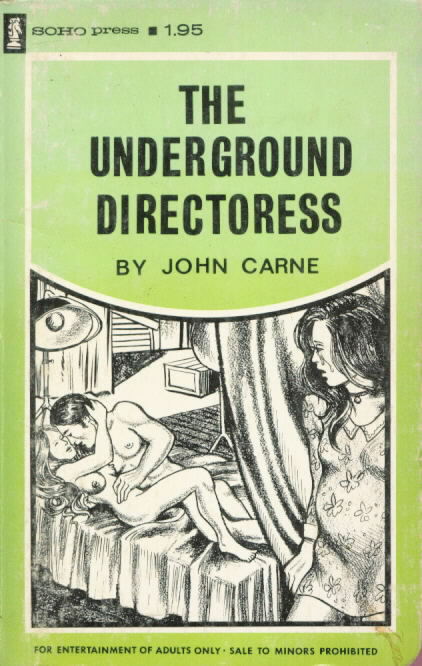 Star Distributors began publishing in the early 1970s with a colorful array of book lines. The subject matter tended to be more hard-edged than the more socially-acceptable subject matter of wife-swapping or nymphomania. The world of the Star books was decidely more taboo, hitting hard on the recurring themes of sex between the young and the old, incest and the dark power play of rape and brutality. The Supreme Court decisions of the late 60s freed up the book business to explore these subjects without running afoul of any laws, and to this day, while the subject matter explored in many of these books is highly charged, because they are works of the imagination, of descriptive literature, as opposed to photographic depiction, they were and are legal to buy, sell, and possess.
"SoHo Press" was originally a series produced by Reuben Sturman's Eros-Goldstripe that was then picked up for distribution by Star Distributors. It should be noted that in the world of adult paperbacks, the role of the distributor included not just the distribution of the books, but also the packaging, printing/production as well. While the initial SOHO Library Press books from Eros-Goldstripe were imitative of the Liverpool Library Press books, with restrained illustration, but after Sturman's takeover of Milton Luros' Parliament News distribution network in 1972-74, Eros-Goldstripe abandoned the Soho Library line, allowing the Star Distributors group to issue books from a truncated SOHO Press line. Perhaps this was an accounting dodge for Sturman as he re-organized his empire, perhaps it was a favor/gift to the Star men -- whose offices were on Broome Street, next to Little Italy, in New York's SOHO district (South of Houston Street), perhaps there are details we will never know... But nonetheless, here is the Star Dist. SOHO collection, gritty gems from the mid-70s that showcase some outrageously sleazy cover design and sordid imagination within.


Be sure to cross-check the "Writers" and "Artists" and "Themes" areas also!
New books will be added as they become available.