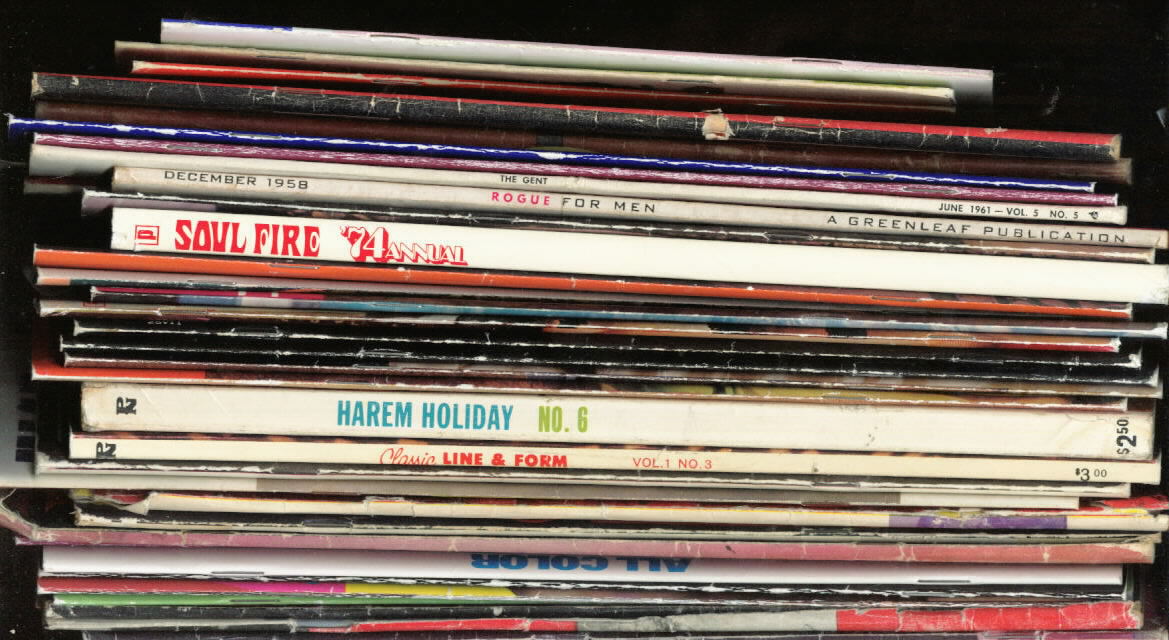 Magazine Catalogs
For those new to the world of vintage erotica, the magazines provide a barometer of the sexual climate of each era... just pick a catalog and dig in!
Beginning with the invention of the printing press, sex has been an important element of inquiry and reflection. It is arguable that the development of the pulp fiction magazine universe may contain within it the roots of our modern entertainment landscape. Genres of interest were instituted by popularity among readers and these genres were naturally re-inforcement marketed to their apparent specific market demographics. Advertisers got involved and the monster idea known as branding began its journey from the tidepool of product/consumer/association to the gene-pool of identity and image manufacture in whose web we are now all entwined.
While sex could always be found in religious publications, modern secular Sex Mags appeared early on -- mostly as pulps with artistic pin-up style renderings that stand today as highlights in erotic imaginings. Photography magazines and Nudist Magazines were the first to offer photographic explorations of nudity and staid suggestions of seduction. These dryly produced journals steered clear of any overt sexual "come-on" though the body was clearly on display for someone's enjoyment. The censorship battles of the 30s over literary erotica may have paved the way for the first offerings of erotica journals such as Samuel Roth's GOOD TIMES, which landed the publisher, a New York bookseller, in prison. Meanwhile the print cousin of the burlesque show, the "girlie" magazine, was making strides by displaying more and more skin until it was safe for the likes of George Von Rosen's MODERN MAN to show topless women, pin-ups and burlesque stars of the day... which gave a young Hugh Hefner the idea of a sexual revolution in glossy newstand edition to be called PLAYBOY.
From the Christmas of 1953, the world has never been the same. Indeed, as the decades passed, it became a question of how much more can be shown legally. The 50s showed tit, the 60s, showed muff and beaver, the 70s showed it all -- but not always legally! The 80s showed it all but sometimes didn't show genitals within orificies, oral, or otherwoise, the 90s showed that but not cum, but by 2000, it was entirely acceptable for periodicals to show ejaculation -- glossy, gooey and somehow now glamourous! What a world! What a world!
So, let's step back and get to know the mags, the publishing companies, the models, scribes and outings of all these magazines...
Welcome to The Dirty Magazines!
New Mags will be added as they become available.